Introducing The Change Companies' Digital Curriculum Platform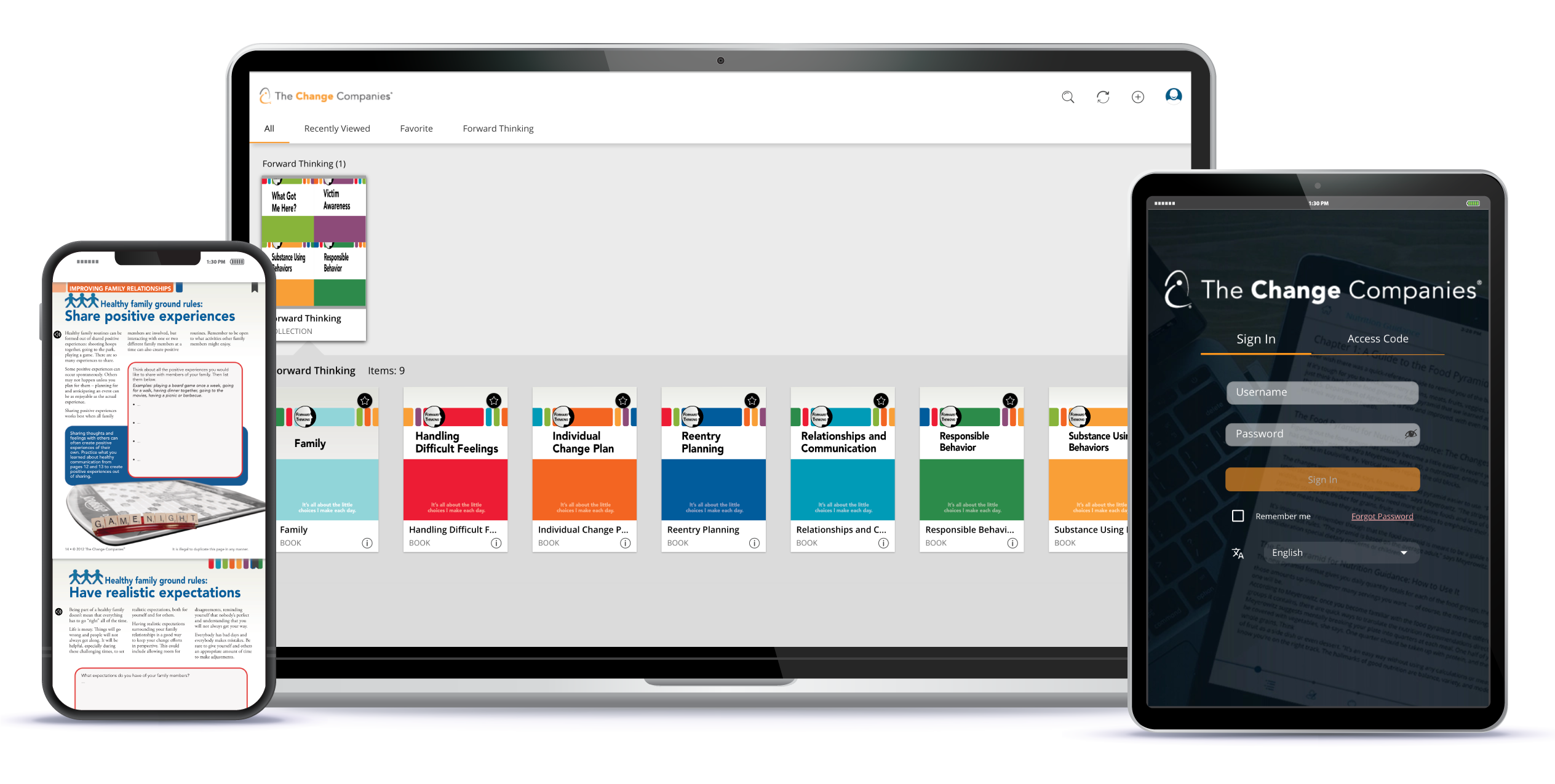 As believers in person-centered care, The Change Companies has always pushed to evolve our Interactive Journaling® curricula to better meet clients where they are. Over the last 35 years, this has meant making our materials more population-specific and gender-responsive, incorporating the latest therapeutic best practices and language and addressing more specific needs.
Today, we're taking another big step in evolving our products to meet clients where they are, and this time, that means launching our digital curriculum platform.
It's no secret that there's a significant rise in telehealth and virtual facilitation. In addition, we've heard time and time again that a meaningful number of clients – particularly younger ones – find it more natural to type their thoughts rather than write them. Developing a digital intervention resource by which clients can access the same CBT and MI-rich curricula online means improving access to those who cannot meet physically, as well as improving the experience for those who prefer a digital medium.
Our treatment partners have admittedly requested digital curricula for a while, and this demand made it tempting to simply have PDF versions of our materials available online. However, one of the key features that differentiates our curricula from materials that may be perceived as "homework" or "workbooks" is the expressive writing experience embedded within the Journal itself. It's what makes the Journal feel personal and individualized, rather than just another set of prompts that are printed and responded to. For that reason, it was a priority to develop a digital version of our Interactive Journals in a way that preserves the interactivity itself.
In addition to the native journaling experience, the first version of our digital platform has a number of valuable features and capabilities:
Journals can be accessed in one place, anytime, anywhere
Both clients and facilitators can access their virtual library of Interactive Journals on the web or on a tablet and mobile application. If you start on your computer but later move to your phone, all progress is automatically saved and ready to pick up wherever you left off. In addition, the Journals actively worked on can be downloaded within the application so they remain accessible offline. Lastly, no more losing Journals! Whether you are working through one or 10 Journals, all are safely stored within your personal account.
Embedded multimedia makes Interactive Journals more… interactive
With digital, we're able to incorporate both audio and video content within the Journals themselves. In version 1, there are voiceovers for the more "text-heavy" parts of the Journal to help clients who may struggle with reading comprehension or are visually impaired. In version 2, there will be more videos embedded within the pages to help expand upon certain concepts, illustrate relevant exercises or support facilitation efforts (particularly when clients work through Journals on their own out of session).
Below is a brief video highlighting this concept where a breathing exercise is shared within a page focused on stress management: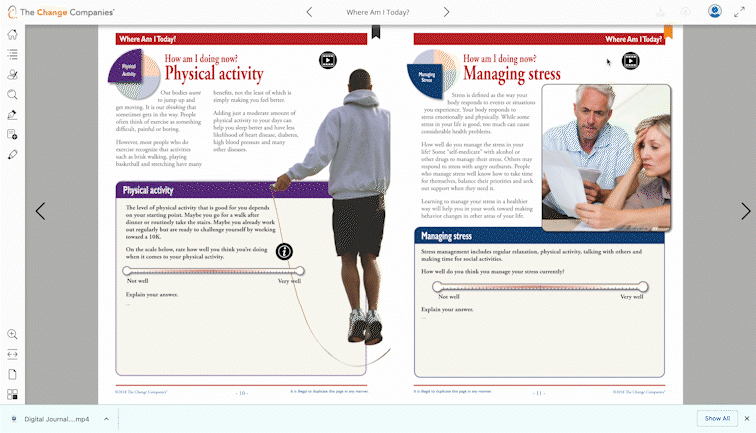 Facilitators can engage with clients from within the platform
After working through specific sections of a Journal, clients can "submit" or share their progress with facilitators (if appropriate), even when they are out of session. This allows the facilitator to view a client's Journal directly from within the platform itself at any time. In addition, facilitators can leave virtual notes or reminders within a client's Journal regardless of whether the client shares their Journal responses or not.
Engagement data helps with good decision-making
The ability to see how many Journals have been opened, how many pages have been worked through, how much time has been spent within each Journal and what resources have been accessed is a great way for clients to see their individual progress and the effort they're putting into making a positive change. Facilitators can also view this engagement data, which helps them positively acknowledge those putting in the work and further support those who may be less engaged.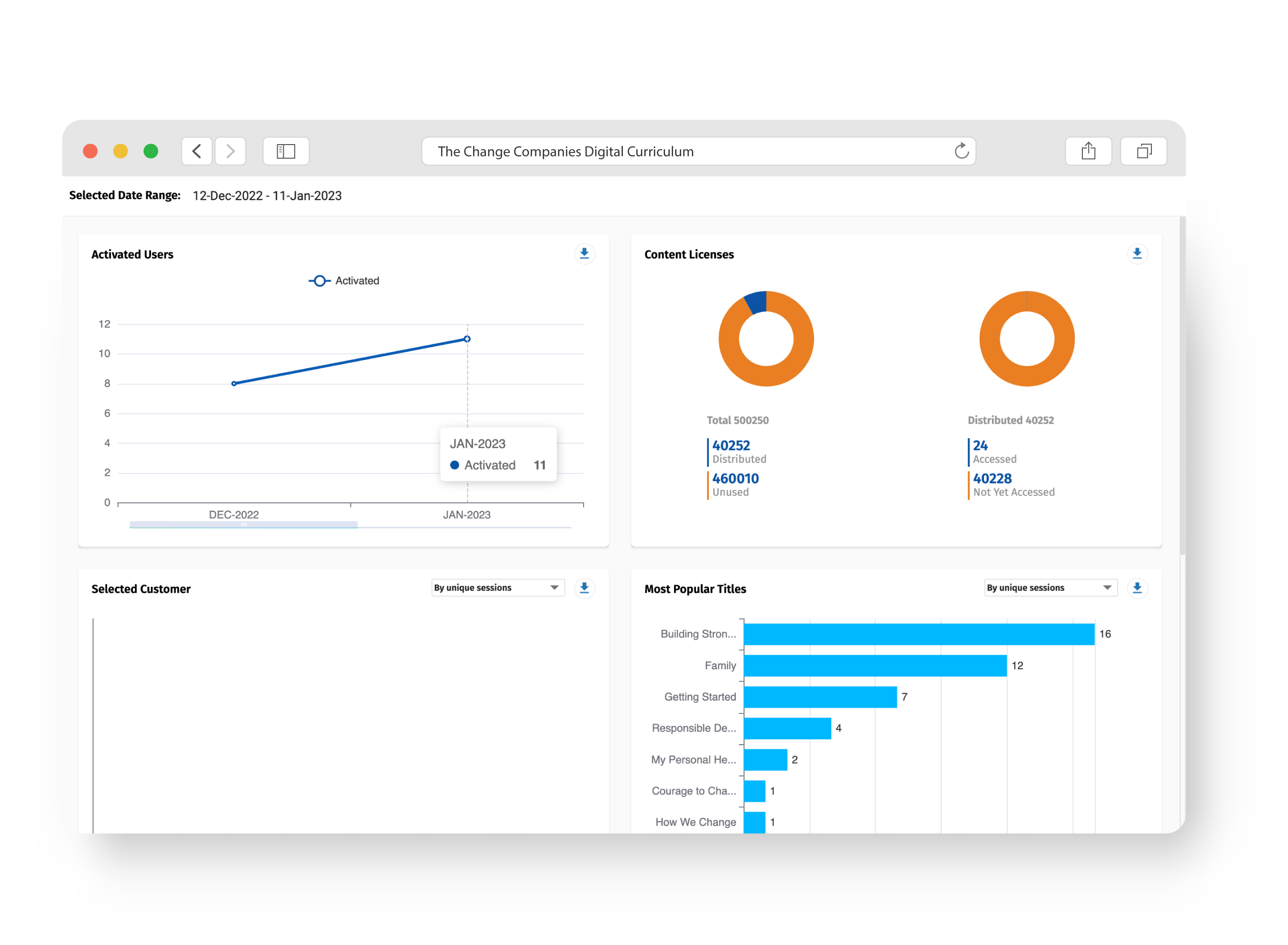 Easy navigation, automatic updates, and more
Version 1 of our digital platform incorporates other small yet rich features: fast navigation through the table of contents, bookmarking, and search; ability to draw or mark up a page with a pen tool (and erase those markups); highlighting text and leaving notes related to those highlights; using the voice-to-text feature within your device to express your thoughts verbally if preferred. Lastly, whenever The Change Companies updates or enhances its curricula, the newest version will automatically get pushed to the individual's account without needing to purchase the latest version.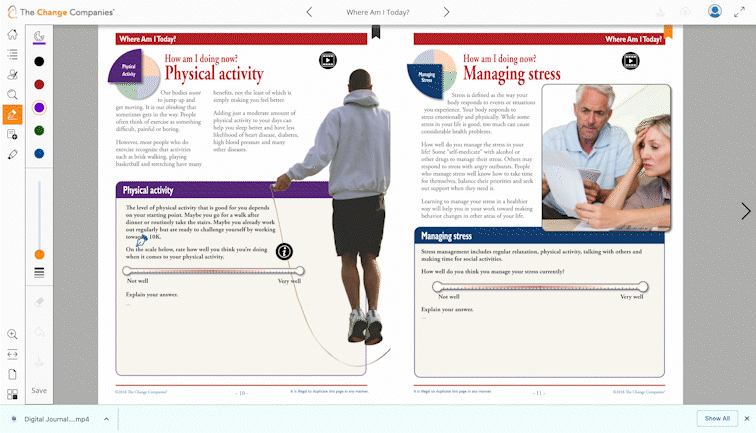 Interested in accessing Interactive Journals digitally?
If your clients and facilitators would benefit from our new digital platform, or if you're curious to learn more, contact us! Given this is a new platform and we're looking to onboard early adopters who can provide feedback for future versions, anyone who signs up within the first six months can secure discounted pricing.